BEHOLD! The 2014 Maine gift guide!
Here is a list of holiday gifts made by folks from Maine and/or have some sort of connection to the state. Be careful, as this guide is so hot it will likely melt your face right off of that pretty head of yours. Holiday gift season doesn't have to be a commercial nightmare, and it doesn't have to be all about losing your mind to malls and soulless box stores. Here are over 150 items that you can buy online (and in recommend retail locations), all of which are made, sourced, and/or manufactured here in Maine. In using this guide, you keep all of your money right here in the state. Boom. Save your insanity and invest locally.
It was shocking the difference this year in putting together the gift guide between last year and the year before that. Etsy especially has upped its game. The shops were polished and well organized. The quality is fantastic. The sales platform is no longer simply the alternative to Ebay and really has set itself up as a cost effective way for independent craftswomen and craftsmen to have a storefront. Finding Maine made options online and in stores are no longer as frustrating as they used to be. The local craftsperson representation there is most definitely growing and this list could have been 500 items long.
This guide features a lot of great guest recommendations from artists, musicians and other creative types. I also owe a great deal of thanks to my wife Jaime Steed, who spent hours helping to put this together.
I will be on MPBN Maine Calling at Noon on Friday, November 7th discussing this and other Maine-made awesomeness, so please consider tuning in then. That show will be broadcast live from an MPBN-organized craft fair at SPACE Gallery and admission will be free. The station is offering an attendance incentive that could not be any more public radio if they tried. The first 100 MPBN members who stop by the network's table at the event will be given a free, limited-edition Maine Calling custom tote bag.
Oh! And a quick shout out to PICNIC Holiday Sale, which was the inspiration for my first gift guide a few years back. It's an amazing event.
TIPS AND TRENDS
The prices on the list are all over the board, and not necessarily representative (on the high and low ends) of what's available at the linked shop. If you like what you see but it is out of your price range, consider checking out what else that shop has available.
The ETSY shops are legit, don't be afraid to shop. Take into consideration the feedback and reach out to the vendor before you buy if you have any questions or concerns, especially about size.
Gold is back with a vengeance.
Don't be afraid to give gift cards to local shops or services. Within these still uncertain economic times, giving a gift certificate is no longer considered a lazy gift.
Replace your e-cards with screen printed cards from local print shops.
Scarves for women and local brews/bbq sauces for men are still a safe bet if all else fails (or the other way around… eff gender pigeonholing… unless he REALLY likes beer and BBQ sauce). Giving a Christmas ornament as a gift is also a safe bet.
Embrace art. Prints and buttons are easy to match up with your family and friends' personality and interests.
Look in places that you haven't looked before. Farms, Farmers Markets, Craft Fairs, antique shops, local CSA's.
A note to shop owners: Perhaps it is because I see this from the perspective of a guy who runs a company that specializes in product photography, but it wouldn't hurt to invest in some photography. This list has become somewhat popular over the past few years, and I was sad to have to omit more than a few handful of amazing products because clear, attractive photos weren't available, watermarks made them unbecoming, or nice photos were displayed but locked away from public use.
FINALLY: If you have arrived here by way of the popularity of this list, welcome. I am a writer based in Cornish, Maine. Recently, I wrote about mourning, growing up in rural Maine, and fond memories of LaVerdiere's Halloweens.
And now without further ado…
WEARABLES

Tencel Gauze Scarf [$55] by way of Luksin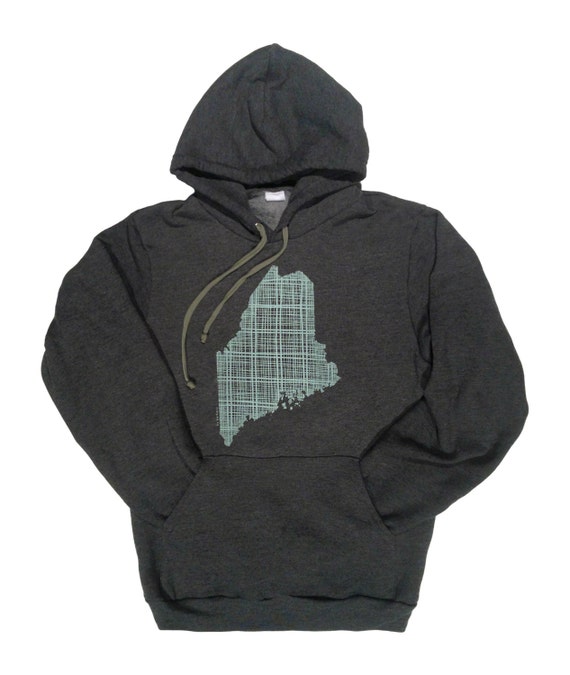 Maine Hoodie [$50] by way of ByBethany
Betty Louise Studio Thick Stripe Hat [$55] by way of Daytrip Society
RunME Tshirt [$25] by way of LiveME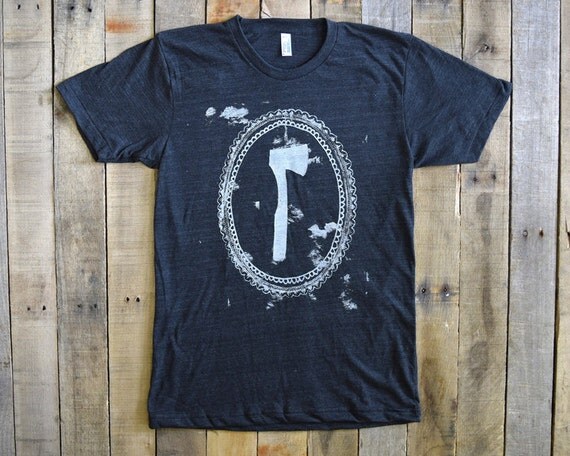 Axe T-shirt [$25] by way of Kris Johnsen
Limited Edition Hoodies [$40 – $50] by way of Katalyst
Board of Maine Logo Tee [$25] by way of Board of Maine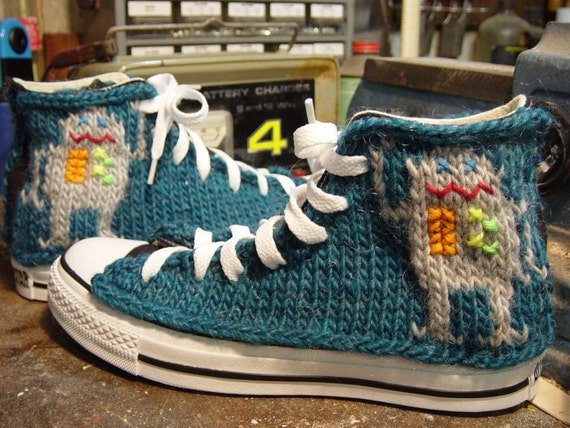 Robot Knit Chucks [$120] by way of PrettySneaky
Iconic Maine T-Shirt [$28] by way of Pinecone and Chickadee
Alpaca Gloves [$24] by way of Fibers of Unity
Charley (long shirt with front placket and princess seams) [$160] by way of http://www.jillmcgowan.com
Handcrafted men's shoes [from $275] by way of Quoddy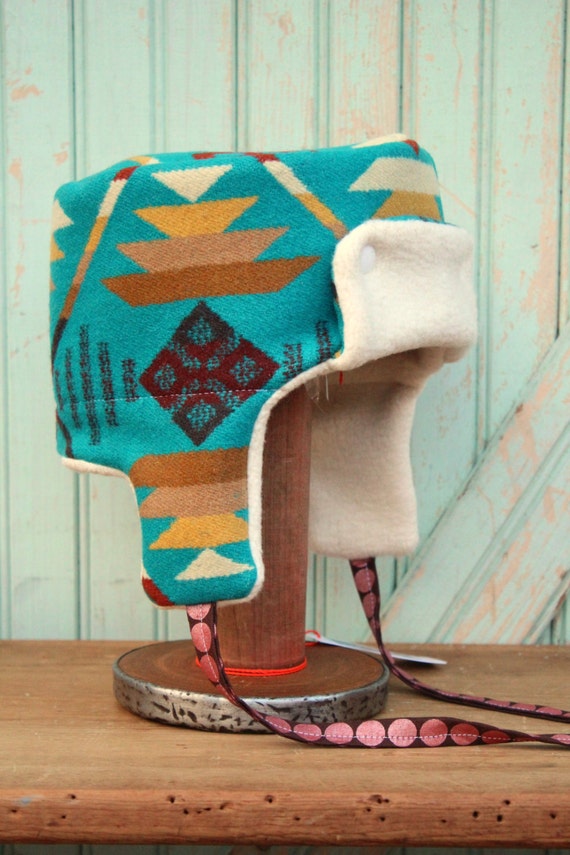 Turquoise Pendleton Little Trapper Hat [$46] by way of WorthyGoods
Women's Wool Long Jane [$125] by way of Rambler's Way
Maine T-Shirt [$25] by way of Unapproved Threads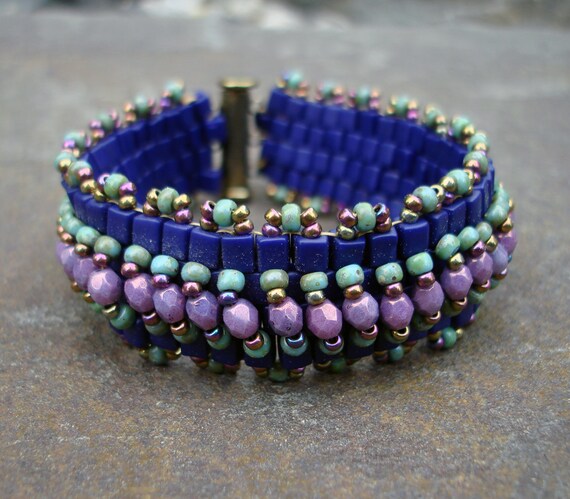 Embellished Peyote Stitch Bracelet [$65] by way of The Last Domino
Signet Drop Necklace [$75] by way of Cat Bates
Personalized Sterling Silver Stacking Name Bangle [$45] by way of Kerri Ann Designs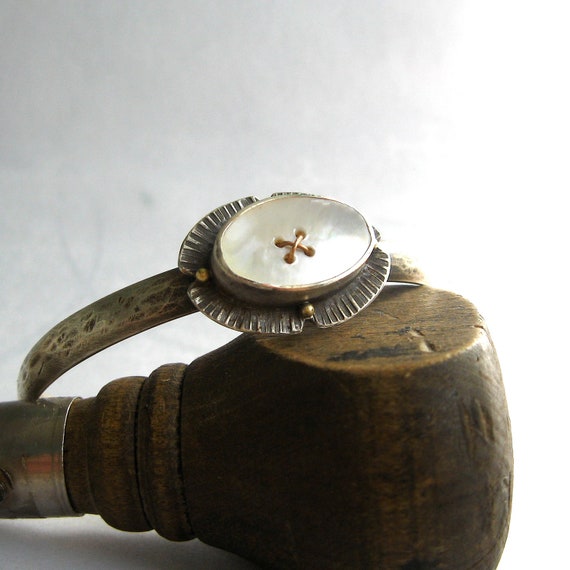 Sterling silver cuff bracelet [$239] by way of Quench Metalworks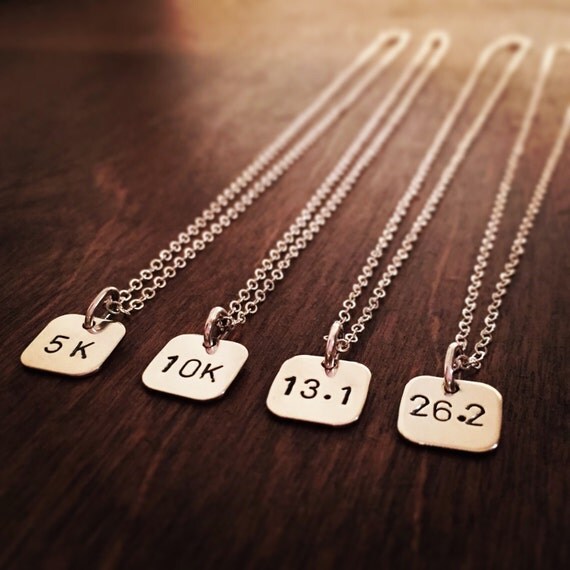 Sterling Silver Running Necklace [$32] by way of Lofted Designs
Custom Small Tag Necklace [$46] by way of Becoming Jewelry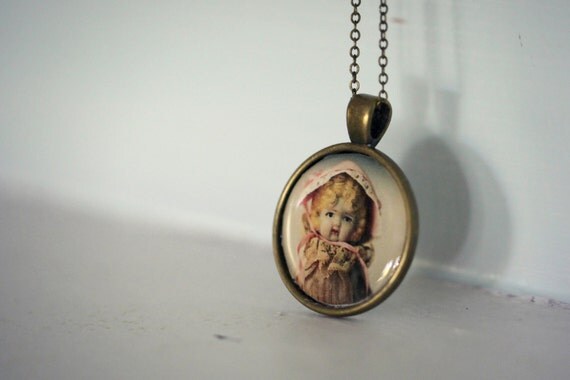 Photo Pendant Necklace of an Antique Porcelain Doll Named Claudia Wearing A Pink Bonnet [$16] by way of Adventures of Claudia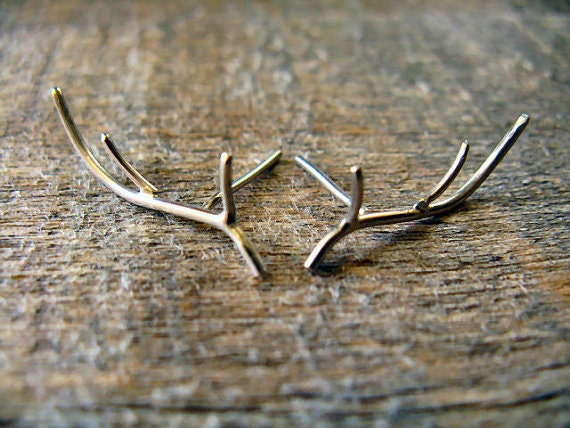 Sterling Silver Antler Earrings [$24] by way of Autumn Equinox
Sailwinds Nautical Bracelet [$36] by way of Sailwinds Trading Co.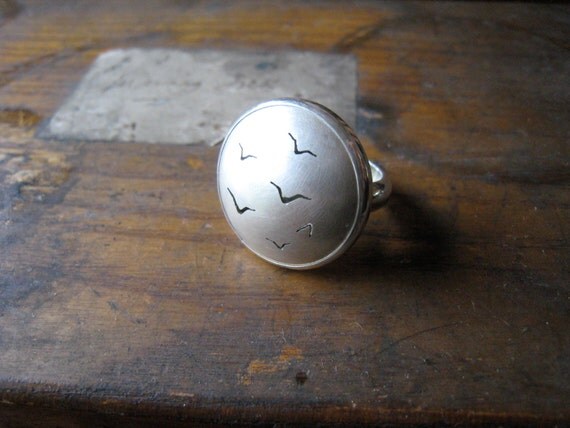 Sterling Silver Flock Ring [$260] by way of c.e. golden
Ese Ne Tekrema Round Earring [$35] by way of Akakpo & Co.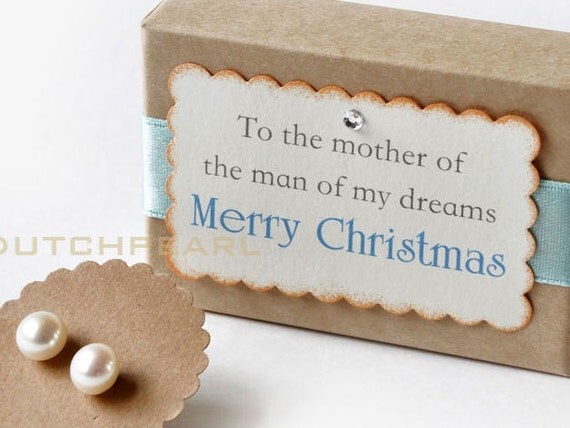 Pearl Studs [$13] by way of dutchperl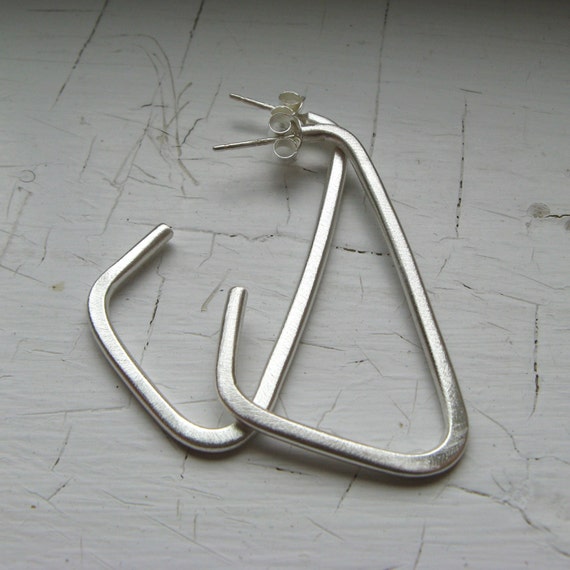 Sterling Silver Geometric Post Earrings [$45] by way of Walker Silverworks
Starfish Necklace [$110] by way of Maggie Bokor Jewelry
Bell Earrings [$85] by way of Barbarian Enterprises
Sweet Pea Necklace [$40] by way of Five Elements Gallery
Peach Chrysanthemum Earrings [$12] by way of Pulp
Bronze Anchor Earrings [$50] by way of Twigs and Heather
ACCESSORIES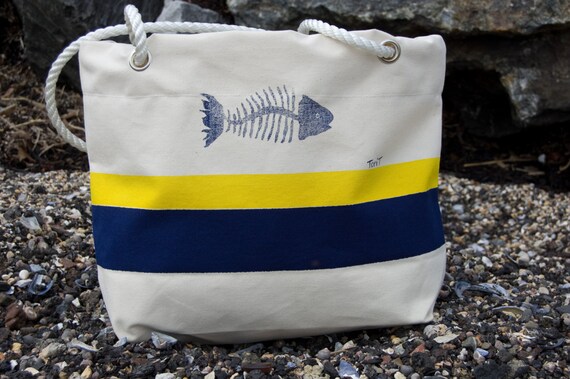 Canvas Tote Bags [$67] by way of Maine Bags and Goods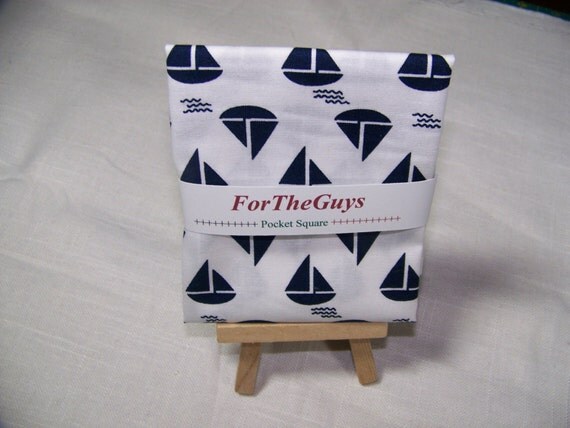 Pocket Squares [$13] by way of For The Guys
Orchard Belt [$9] by way of Shop Apparel
Hand Stitched Travel Wallet with "Field Notes" notebook [$125] by way of Weft And Warp (November 6 is the last day for guarantees on holiday orders)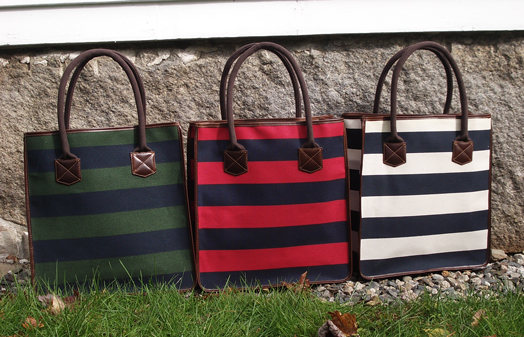 French Stripe Market Tote [$195] by way of Liza Hennessy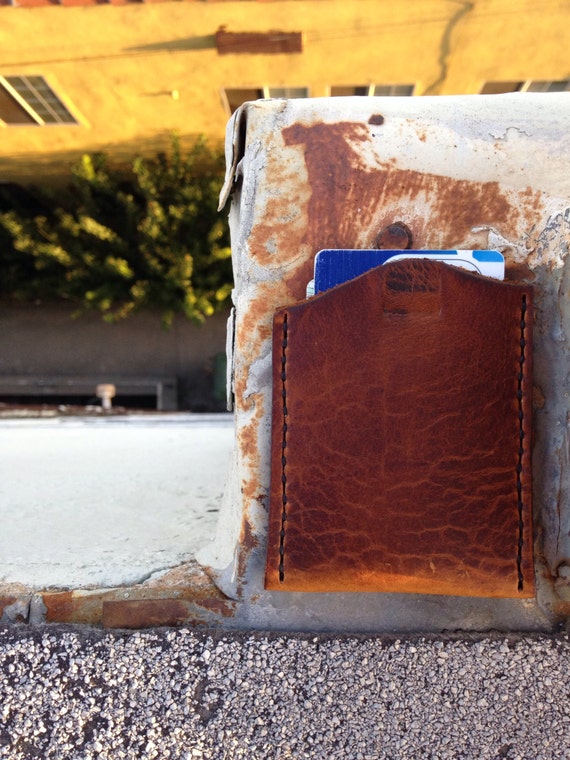 The Chapman Card Wallet [$45] by way of Maine Leather Co.
Convert your favorite necktie to a bowtie [$49] by way of Bowtie
Anchor Shave Kit [$40] by way of Sea Bags
Deco Floral Tote [$42] by way of Morris & Essex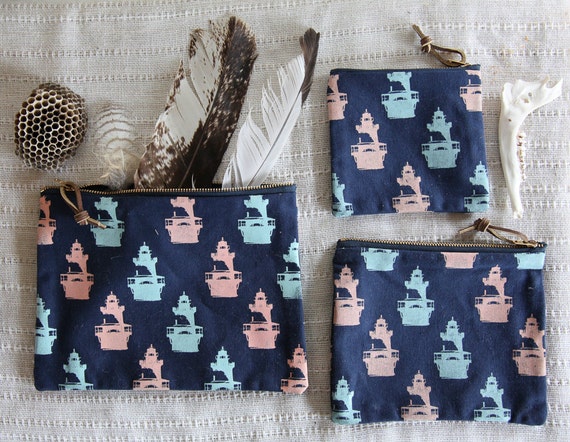 Make up bags [$18] by way of Fox i Printworks
L.L. Bean Boat and Tote [$40] by way of L.L. Bean
Bait Bag Clutch [$60] by way of Alaina Marie
Full Grain iPad Case [$50] by way of Rogue Industries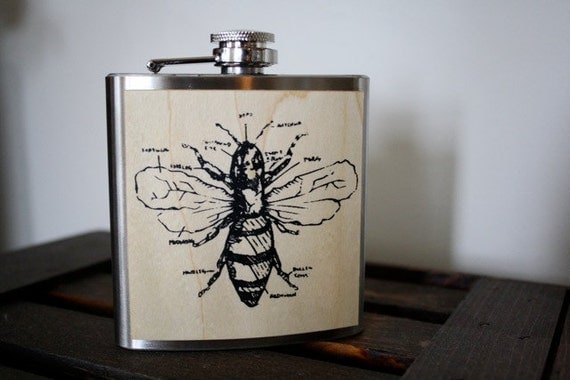 Bee Anatomy Flask [$24] by way of Mad To Live Creations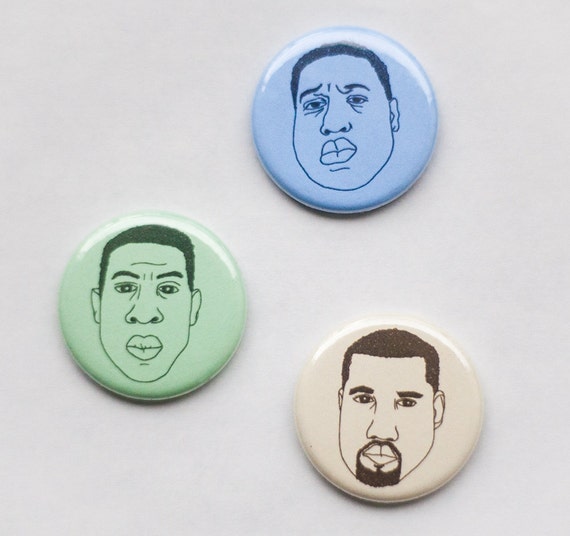 Biggie Smalls, Jay-Z and Kanye West magnet set [$22] by way of Exit 232 Designs
Bowline Company Bowtie [$59] by way of Bowline Co.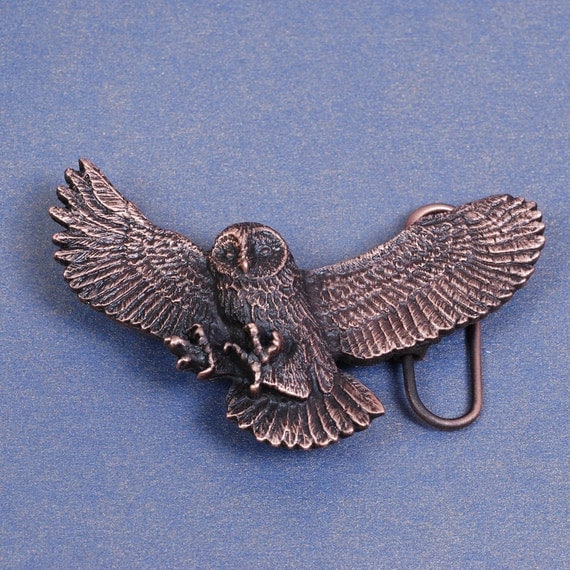 Owl Belt Buckle [$27] by way of Chrononaut Mercantile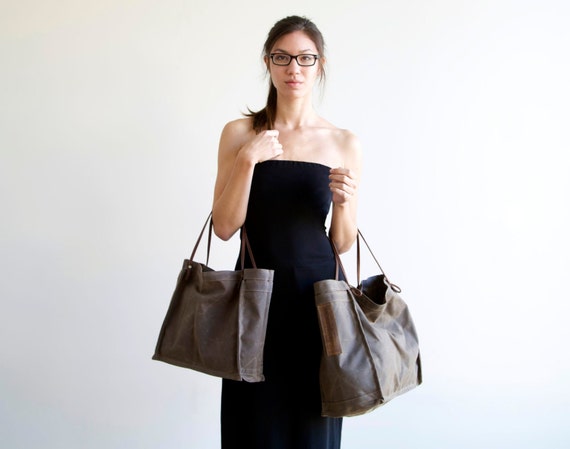 Tote [$88] by way of Rough & Tumble
Lighter cover made from baseball glove and copper [$50] by way of Jared DeSimio
Guest Recommendation: "Jared DeSimio is a maker of bags and accessories that are steeped in history. Using vintage, antique, salvaged and upcycled materials, Jared creates functional men's and women's accessories that live on to tell the next story and create the next memory.
"Jared domestically sources everything that is not salvaged. Jared will also utilize materials provided by customers to create customized products that honor the personal memories and storylines of the past.
"Personally, I think Jared's ability to make one of a king custom pieces for you is what sets him apart. He has encased a World War II era dog tag for me in leather last year, and I also own one of his bags made of a pair of 80's style jeans and an old Portland parking meter case."
ART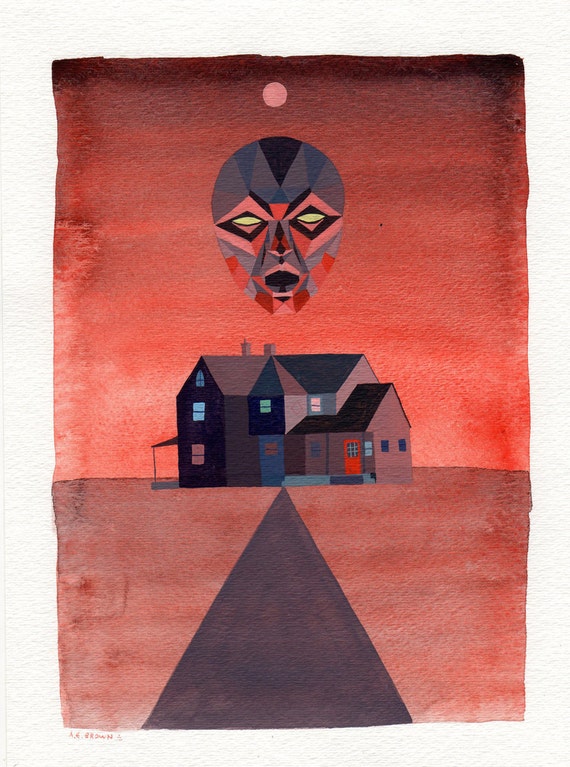 It Hurts to be Dead Print [$15] by way of Medusawolf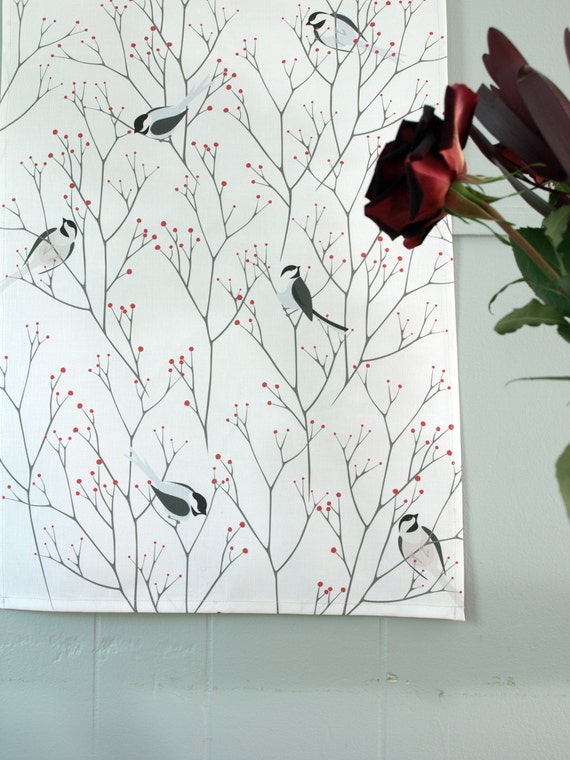 Chickadee and Winter Berry Branch Tea Towel [$24] by way of Lilleputt Studio
Portland Map [$55] by way of Fiber and Water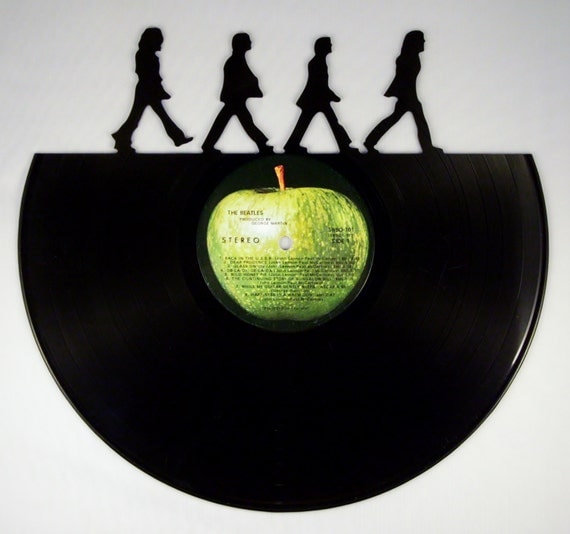 Album-specific recycled vinyl wall art [$40] by way of Second Spin Vinyl Record Designs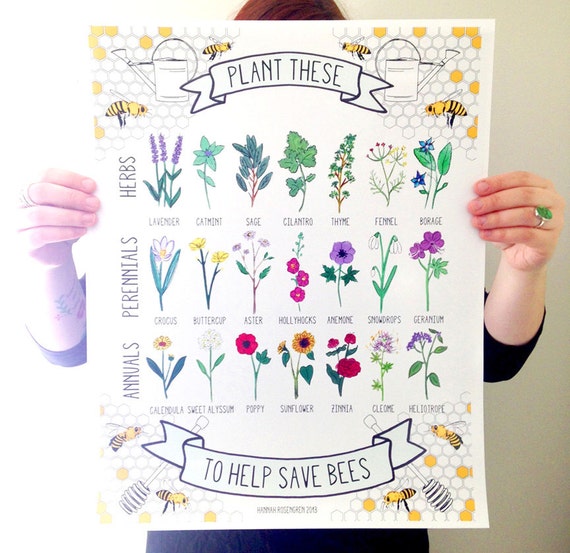 Plant These to Help Save Bees Poster [$36] by way of Hannah Rosengren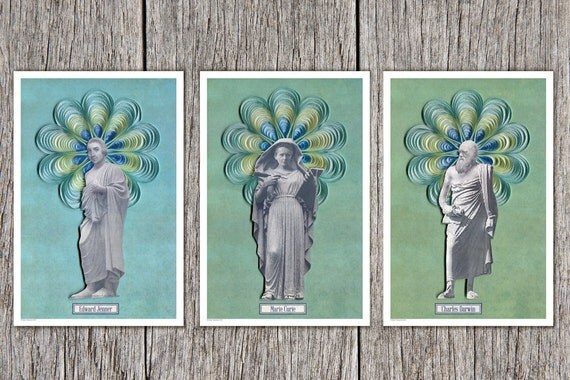 Famous Scientists of the 19th century Poster set Charles Darwin, Marie Curie and Edward Jenner, Scientist poster set, science illustration [$17] by Yakawonis Quilling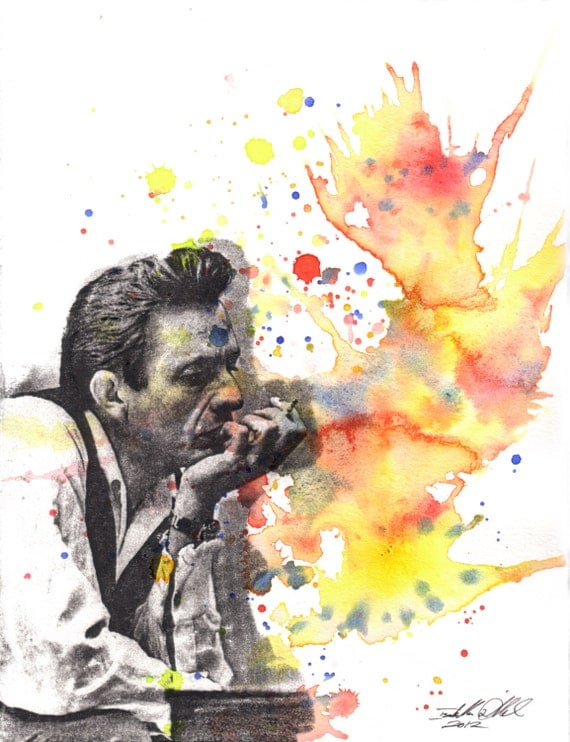 Johnny Cash portrait [$35] by way of IDILLARD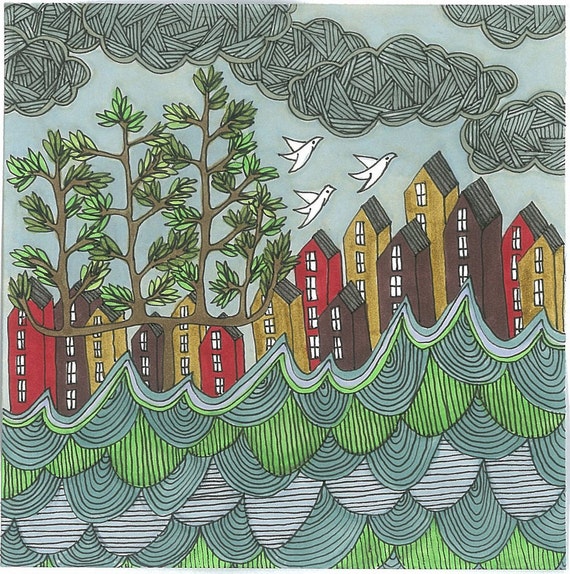 There's a Storm Coming print [$40] by way of Swallowfield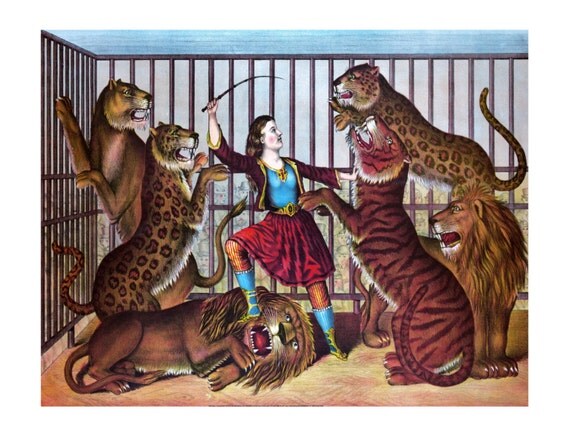 The LION QUEEN Circus from 1874 [$16] by way of Dr. Claude's Emporium
Share of Art [half share / full share $175/$350] by way of Community Sustained Art
Guest Recommendation: "Not many people think of the PMA store inside the Portland Museum of Art as buying local, but I think if they check it out—no admission is necessary—they'll be surprised by the range of quality gifts that are either made locally or inspired by local artists, and 100% of the money they spend goes to supporting the museum's operating costs and educational programming (disclaimer: I do work at the PMA, but not in the store). Last year I bought my in-laws their puzzle inspired by Dahlov Ipcar's Blue Savanna [Islandport Press] and they loved it—I think savvy children would, too. I also love their product by Black Point Mercantile, which is rugged and handsome in that Maine sort of way, and the Ponomo jewelry by Hannah Tarkinson. Hannah is just exceptionally gifted; I've had a leather bracelet by her for years and still wear it often.
The most recent locally made product that I bought was a print by Eric Hou for the nursery of our baby-to-be (above). Hou made this series of prints that feature cartoony koala bears, and tell a story that is somehow related to Michael Jackson's Thriller. It's really cool, and the whole series is available at Pinecone & Chickadee."
— Bob Ker, Portland Museum of Art and Co-Owner of Find
BABIES + KIDS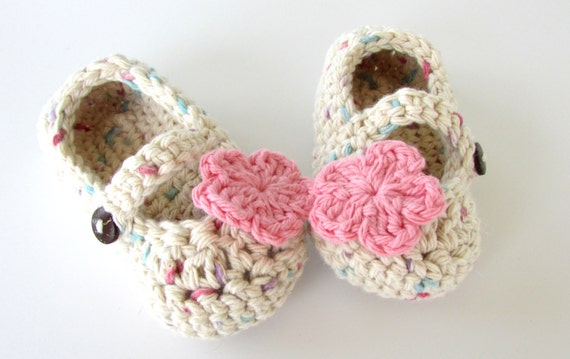 Beige mix cotton baby booties [$16] by way of Siena's Maine Design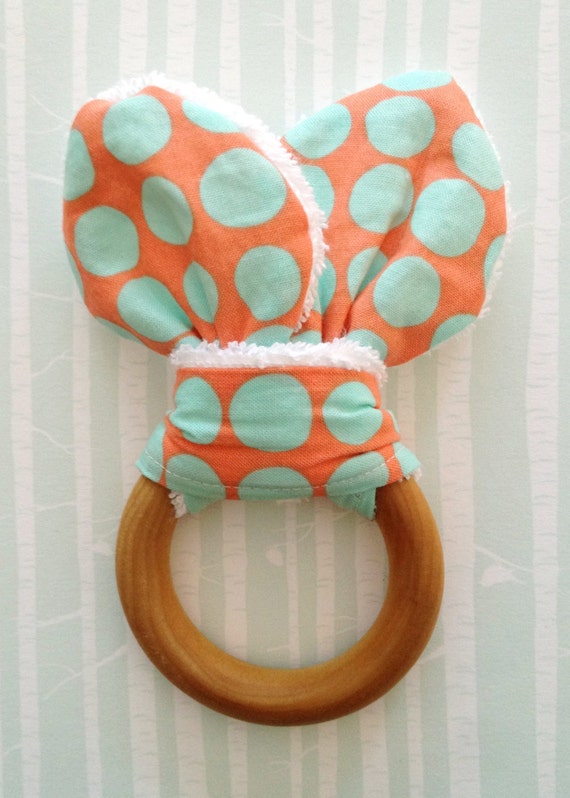 Bunny Ear Teething Ring [$8] by way of Bird and Bear Boutique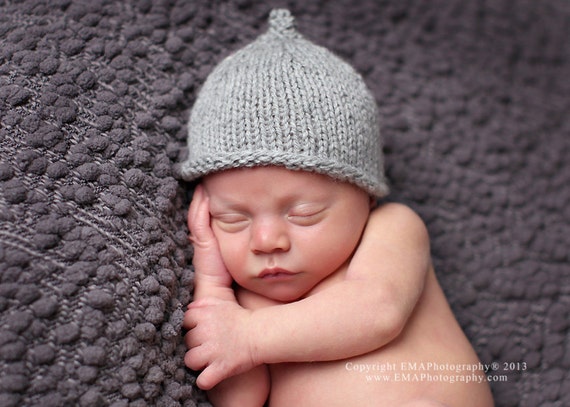 Wool Knit Teardrop Beanie [$18] by way of Petunia's Handmade Creations
Organic Baby Pajama Set: Sack and Cup [$46] by way of BAOBAB Organics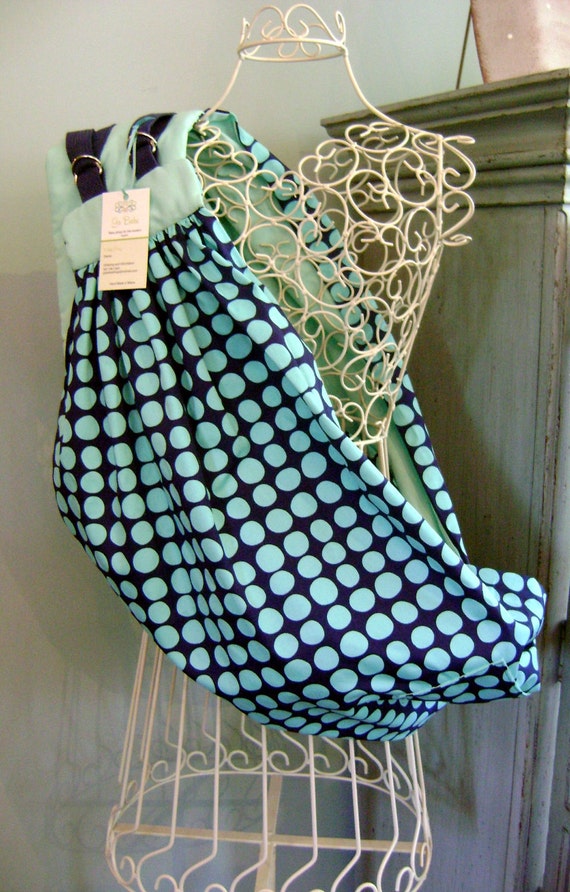 Adjustable Baby Sling [$45] by way of GoBabe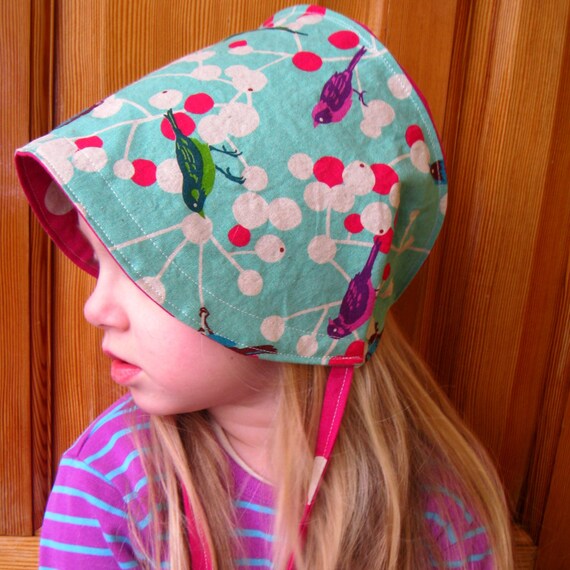 Reversible bonnet $25 by way of Anabel Fuzz
Eco-dough [$20] by way of eco-kids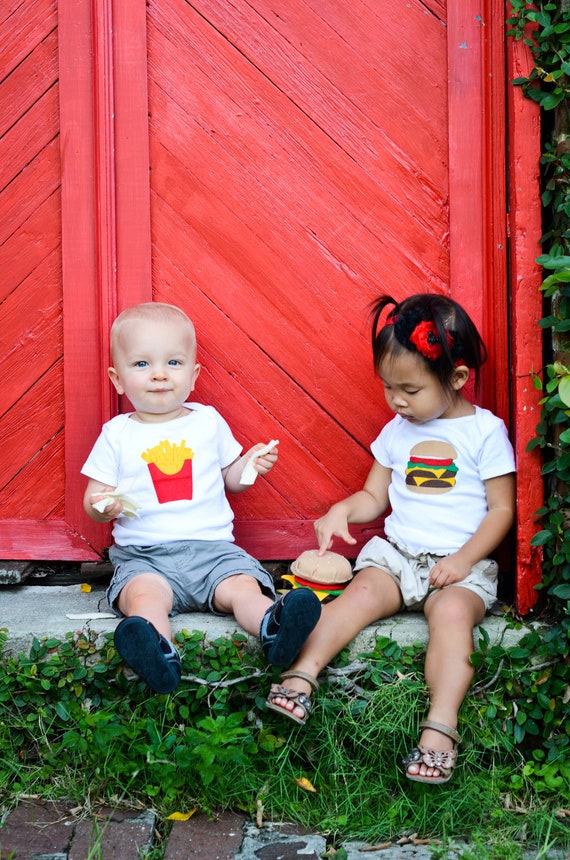 Twin Baby Clothes Cheeseburger and French Fries Onesie [$26] by way of The Wishing Elephant
HOME
Set of 4 Drinking Glasses [$39] by way of Erin Flett
Gift wrap [$10] by way of Foreshadow Press
Lavender Laundry Soap Powder [$6] by way of Human Nature
White Pine Firestarters [$20] by way of Pinecone Firestarters
Wooden spoon [$32] by way of Park Woodshop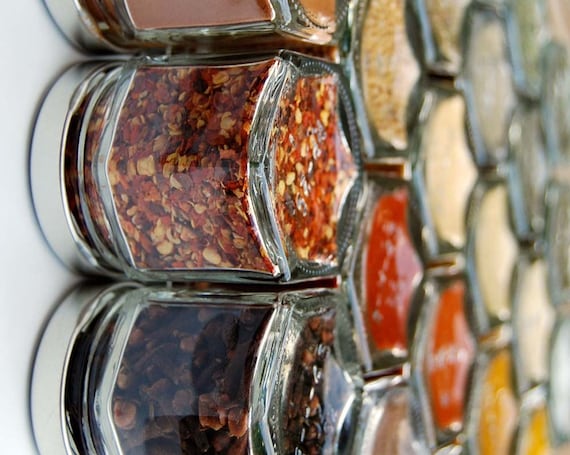 DIY Magnetic Spice Rack [$43] by way of Gneiss Spice
Striped Maine Pillow [$45] by way of Designs By Sarge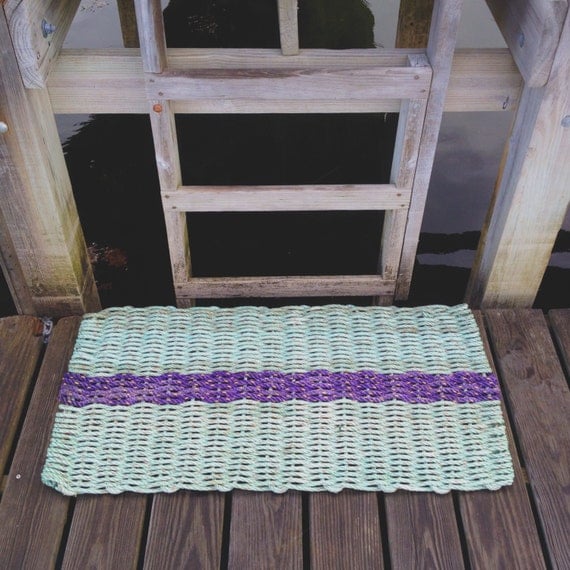 Recycled Lobster Rope Doormat [$53] by way of Cape Porpoise Trading
Recycled Loveseat [$360] by way of Lobstah Rockah
Apple Bowl [$60] by way of Kim's Turning Corner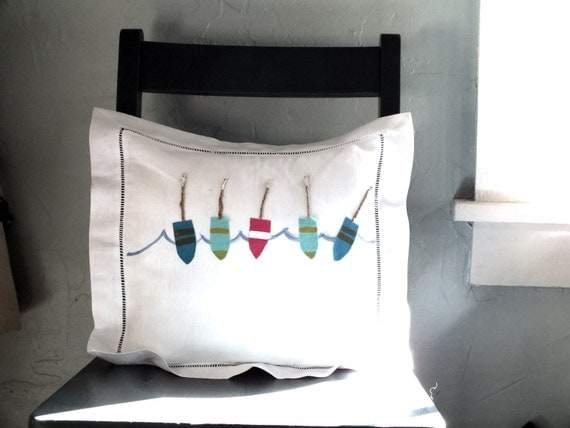 Maine Buoy Pillow [$42] by way of Cobalt Sky Studio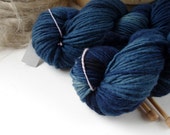 Merino Wool Yarn [$18] by way of On the Round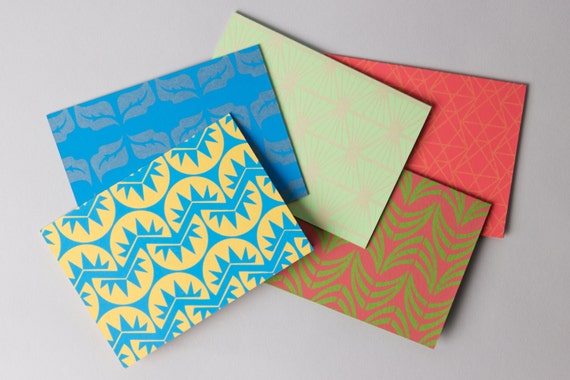 Set of Notecards [$10] by way of Rock Paper Pigeon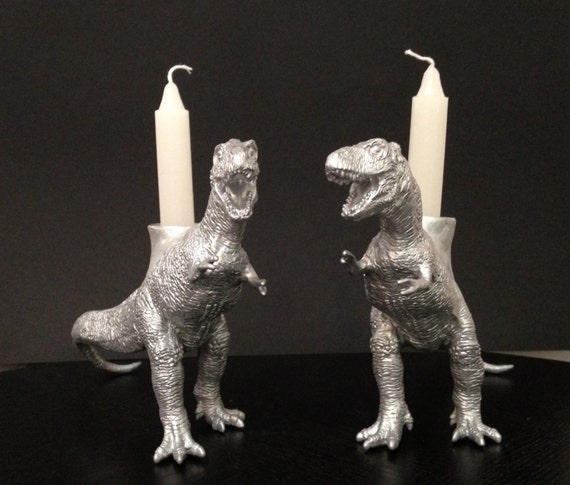 Menorsaur [$85] by way of The Vanilla Studio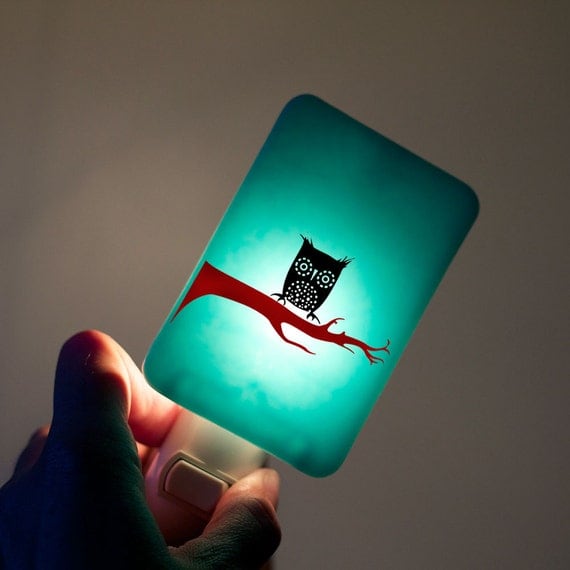 Cute Owl Nightlight [$42] by way of Happy Owl Glassworks
Concrete Soap Dish Set [$35] by way of Culinarium
Candle [$19] by way of Seawicks
Maine Made Wood Bakery Pin [$19] by way of Fletchers' Mill
Handmade wooden biscuit cutters [$22] by way of Al Mather: Wodturner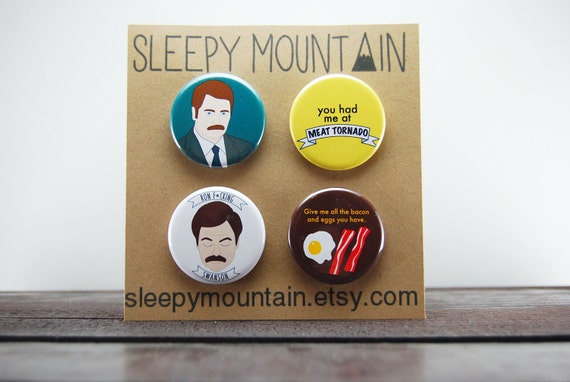 Pinback or Magnets [$9] by way of Sleepy Mountan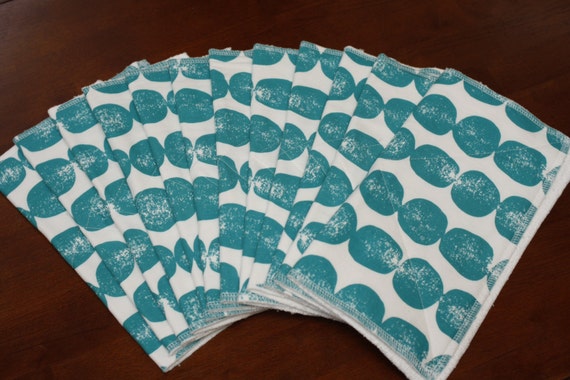 Reusable "Paper" Towels [$50] by way of Anne Riggs Designs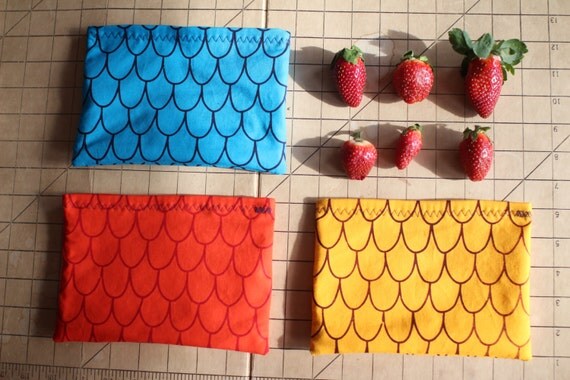 Reusable Snack Bags [$7] by way of Molly Angle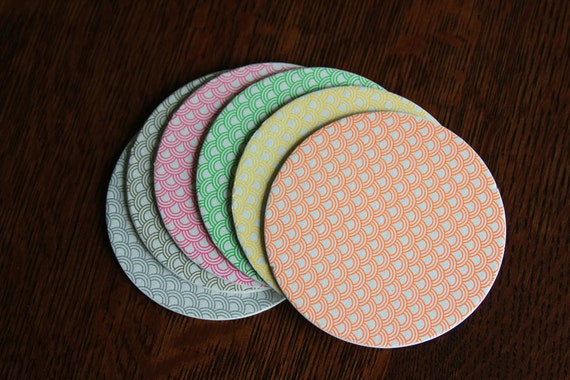 Letterpress Neon Coasters [$8] by way of Wishbone Letterpress
Cloth Napkins [$18] by way of Nestleberry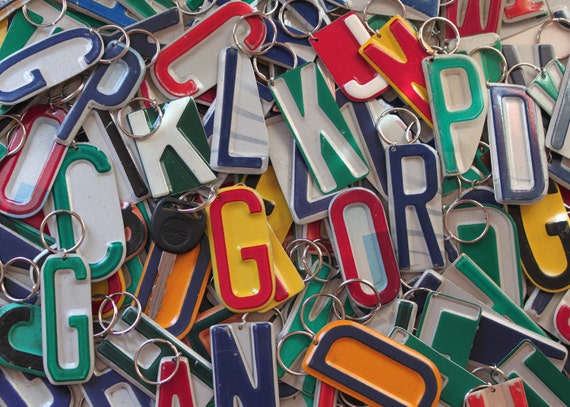 License plate key chain [$6] by way of ScrapMetalMags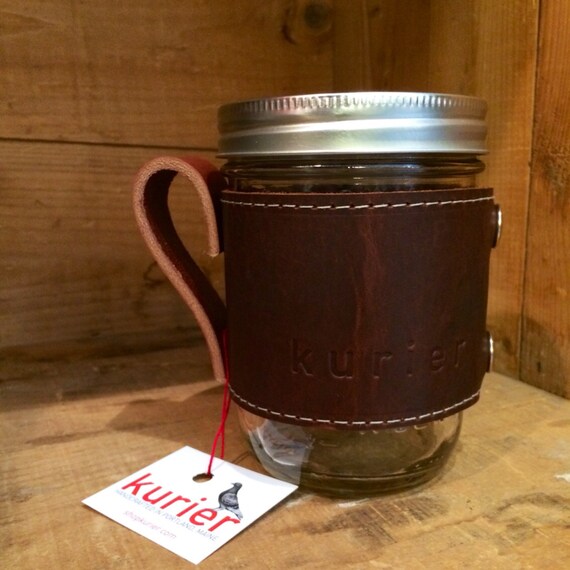 Leather mason jar mug/sleeve [$27] by way of Kurier
Guest Recommendation: "As a left-wing tea addict I struggle with the shame of needing an extra paper cup sleeve to shield my wimpy hands from the scalding temperatures of my to-go bevies. So when I realized the leather mug sleeves from Kurier protects my delicate writer's hands and is environmentally friendly, I bought one in every color.
"They somehow make an adult sippy cup look sophisticated; and for that I eternally inspired."
— Emily Straubel (Coach and Writer) Website | Facebook | Instagram
Weft & Warp Seamster Chef's Apron [$85] by way of Portland Trading Co.
Guest Recommendation: "Erik Desjarlais at Weft and Warp Seamster makes good aprons and what not. Holiday gift giving is definitely not my strong suit, I am much more well known for my capacity to receive."
— Joe Ricchio, Master of Ceremonies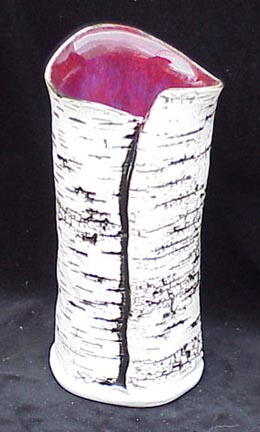 Birch Bark Vase [$40] by way of Pottery by Celia
Guest Recommendation: "I first encountered Pottery By Celia four or five years ago at the Fryeburg Fair where a woman — Celia, I presume — had set up her booth in one of the large 'EXPO' barns. My wife and I bought two mugs, used the hell out of them all year, and came back the following October to buy more mugs from Celia – specifically the amazing oversized birchbark ones. She also makes plates, bowls, candle holders, etc. They're mostly priced in the $20 – $40 range so they make great gifts and also have a homemade, rustic Maine quality to them that feels like Maine. I've probably drank an ocean's worth of coffee out of mine over the past few years. Wish I had one right now as I type this from Houston, Texas.
— Spose, Rapper
HOLIDAY
Christmas Ornaments [$14] by way of Gail Miller Designs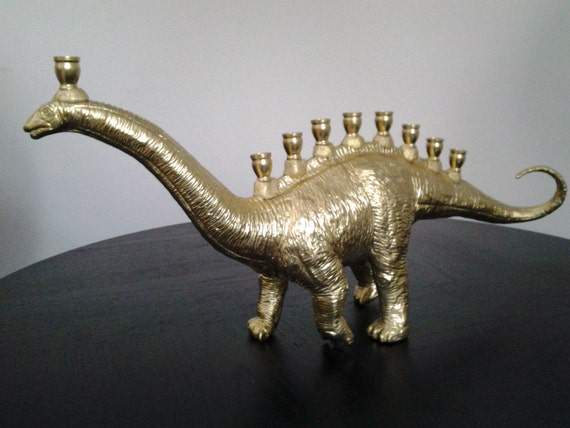 Menorsaur [$85] by way of The Vanilla Studio
Blue n' Green Seashellglass Ornament [$20] by way of Maine Coast Creations
Green Classic Snowflake Christmas Stocking [$40] by way of Christmas Cove Designs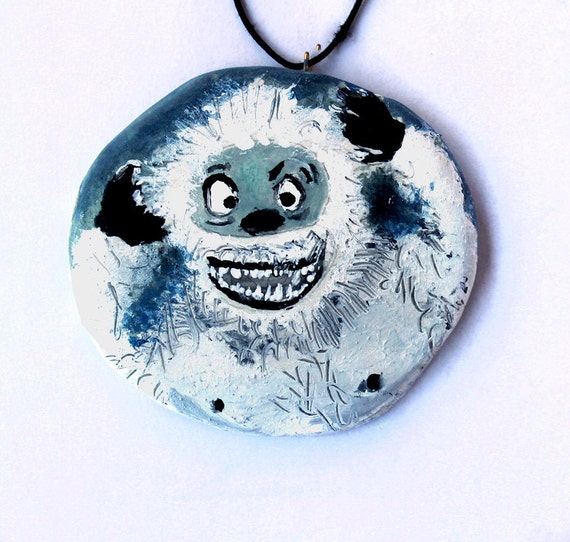 Clay ornaments [$16 – $20] by way of Wild Bell Studio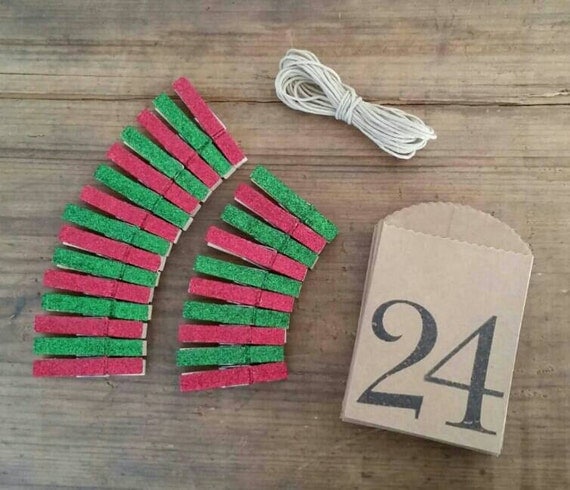 Mini Glitter Clothespin Advent Calendar [$20] by way of Running Blynd
Goose Pond Ornaments [$18] by way of Goose Pond
Holiday Wreaths [$49] by way of Worcester Wreath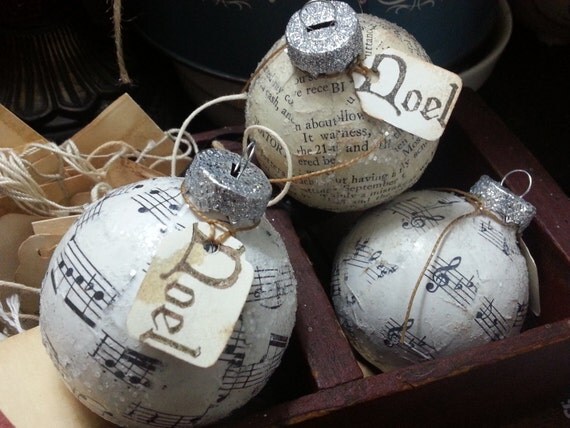 Vintage Paper Glass Ball Holiday Ornament [$7] by way of Reverie Creations
BODY
Fox Tail Grooming [$12] by way of Portland Trading Co.
WOOD Super Thick Hand Cream [$14] by way of Portland General Store
Arco Facial Scrub [$24] by way of 2 Note Botanical Perfumery
Balsam Bar Soap [$4] by way of Frenchies' Natural Products
Maple Almond Lip Balm [$4] by way of Long Winter Farm
Grapefruit Exfoliating Sugar Scrub [$8] by way of Blissfully Simple 
All natural body care [$18-$32] by way of Minka Home
Shea Butter Hand Cream [$12] by way of Coast of Eden
Lavender Mint Tea Bath Soak [$10] by way of Long Winter Farm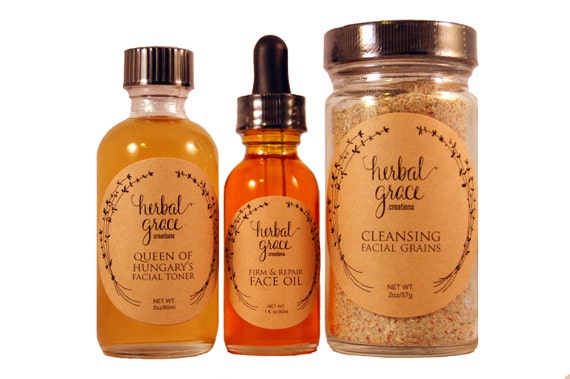 Glowing Skin Trio (Facial Grains, Toner, Moisturizer) [$40] by way of Herbal Grace Creations

EDIBLES
Holiday Gift Box [$23] by way of Bixby Co.
12 Cupcakes [$28] by way of East End Cupcakes
Tea [$8] by way of Herbal Revolution
Down East Gift Box [$36] by way of Raye's Mustard
Make your own Maine Beer Company 4 pack [$25] by way of most beverage stores
Good Coffee [$11] by way of 44 North Coffee
Sea Salt Caramel Chocolate Lava Cake [$5] by way of Jarva Cakes
12oz 4-packs of Rising Tide [$9-12] by way of the Rising Tide tasting room and most beverage stores
Note: Stasia from Rising Tide wrote in to remind that the company also has limited release cork and caged 370ml bottles. "Right now we have Polaris available and on Black Friday we'll be releasing Hesperus in that format. These beers are typically $8 a bottle."
Sea Salt Gift Sampler [$45] by way of Maine Sea Salt
Flavored Popcorn [$12] by way of Coastal Maine Popcorn
Four Sauce Gift Crate [$38] by way of Captain Mowatt's
Gift basket [$34] by way of Maine's Pantry
Holiday Three Pack of Flavored Simple Syrups [$30] by way of Royal Rose Syrups
Gunpowder Rye Whiskey [various] by way of these locations

Bloody Oyster Bar Mix [$10] by way of WaldoStone Farm
Time & Temp Espresso [$10-$18] by way of Tandem Coffee Roasters 
Bloody Maria Mixer [$30] by way of Cheryl Wixson's Kitchen
Allagash large format bottles [$10 and up] by way of these locations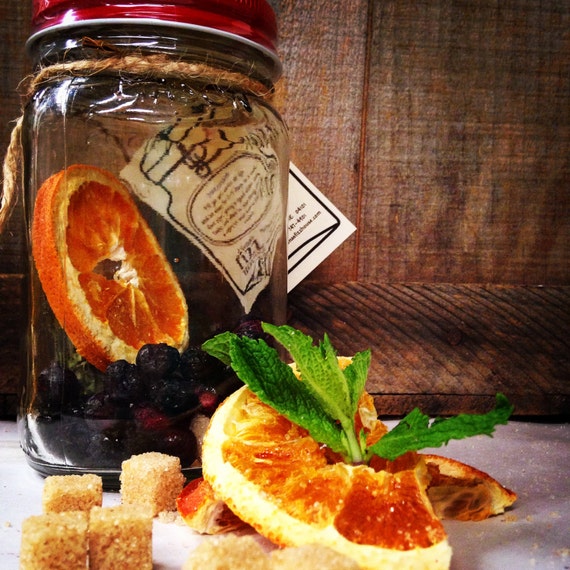 Blueberry Smash, Moonshine in a Mason Jar, Infusion Kit, DIY Just Add Gin or Vodka [$10] by way of Vena's Fizz House
Guest Recommendation: "I always enjoy giving friends and family the ingredients for a quality cocktail to enjoy at meals and gatherings during the holiday season. Using Blueshine from Maine Craft Distilling and ingredients from Vena's Fizz House, the Bluehattan is Maine in a cocktail. If you want to include muddlers, shakers, look into Portland Trading Co. where you can also find an incredible array of specialty handmade items from around Maine and the world. They are all worth the visit."
— Kevin Oates, Executive Director + Founder of Maine Youth Rock Orchestra
EPHEMERA + OTHER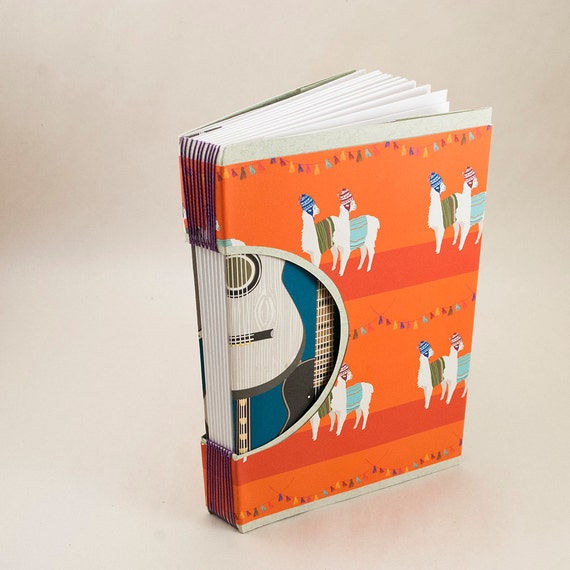 One of a kind journal [$28] by way of Purplebean Bindery
$4,000 in Coupons [print or mobile $20/$15] by way of SunriseGuide
All natural dog treats [$11] by way of Old Dog Cookie
Miss Rumphius [$17] by way of Sherman's
Anna Lombard CD [$10] by way of Bull Moose
Cherry wood journal [$65] by way of Boarding School Craft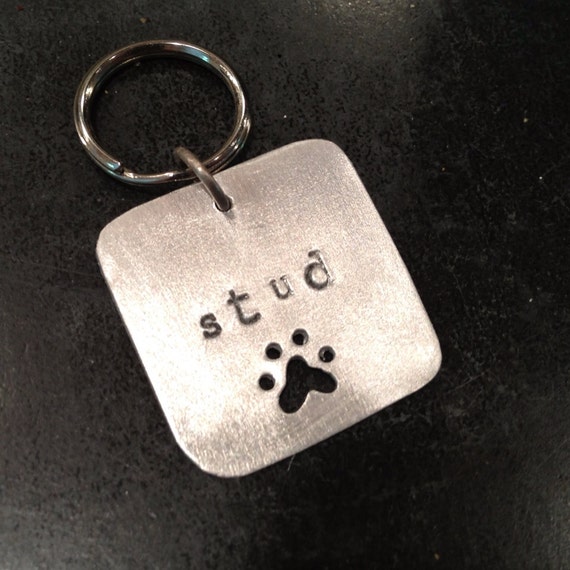 Pet Tag [$12] by way of Lofted Designs
Damnationland DVD [$20] by way of Damnationland
Blueberries For Sal [$18] by way of Longfellow Books 
Custom Dog Bed [$130] by way of Dofähn
Aphorisms, Bumper Stickers, Truths and Rhymes album by
Samuel James [$10] by way of Samuel James
Spose albums [$10] by way of Bull Moose
Stripes and Spots [$18] by way of Portland Museum of Art / Islandport Press
Guest Recommendation: "There is so much great locally made jewelry available in Portland. One of my favorites is Cat Bates, who casts nautical and organic inspired pieces in bronze. His work looks amazing on men and women. Plus he is super-nice! I also love Saemo and Bast jewelry, which are available at several local shops (including Find ). For kids and babies I love the adorable tees and onesies designed and made by my friends Amy and Noah at Pinecone and Chickadee. My other go-to kid present is books by Maine artist Dahlov Ipcar [Islandport Press]. Her books are available at Longfellow Books and the Portland Museum of Art store. Also, if anyone wants to get me a present please make it a gift certificate to Judith! It's my favorite new shop. The owner and buyer, Brooke Beaney, has impeccable taste and I literally want to buy everything she stocks!"
— Laura Ker, Co-Owner of Find
OUTDOORS
Hand Tied Fishing Lures [$3] by way of Benton Fly Box 
Jack Traps Jig Stick & Sleeve [$26] by way of Jack Traps
GIFT CERTIFICATES
Restaurant Gift Certificate by way of Portland Food Map
Maine State Ballet: The Nutcracker [$20-$60] by way of Port Tix
Spa Facial [$80] by way of Marika Alisha Skin Care
Cooking classes with the owners of Piccolo [$85] by way of Rosemont Productions
Maine Beer Tours Gift Certificate [$60] by way of Maine Beer Tours 
Buoy Local Gift Card [various denominations] by way of Buoy Local
Suds + Spirits Tour [$45] by way of Maine Brew Bus
Hot Towel Massage [$95] by way of Nine Stones Spa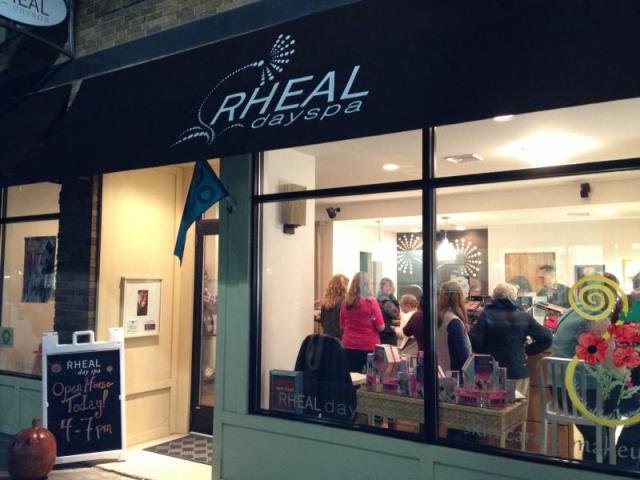 Spa Manicure [$40] by way of Rheal Day Spa
Gift Certificate [variable] by way of Gathering of Stitches
Guest Recommendation: "So I rarely buy gifts, I usually make them. And I usually don't give gifts because its a holiday season, but because I see something a person would love. I don't understand our constant need to buy crap because we are told to do so for a holiday. But if I were to buy something it would be from fellow artists, so I would recommend hitting the MECA sale or galleries or contacting an artist directly. Also the PMA store, or for that matter memberships or donations to PMA, SPACE, Symphony, MPBN – any art non profit that depends on member support. Maybe a gift cert to take a class at Gathering of Stitches? Although Kyle Durrie isn't technically local to Maine anymore, I have bought things from her."
— Tanja Hollander, Photographer
Gift Certificate [various] by way of MOFGA
Guest Recommendation: "I love seeking out gifts that it's likely no one else is going to give and so for that reason, I always start local first before I hit the internet. Another thing I always look for is a gift that keeps on giving. Take for example wine kits at Central Street Farmhouse in Bangor. If you have a favorite wine (even really fruity wine fans have an option here) owners & operators Zeth & Betsy Lundy carry it and best of all, if you're not into the whole chemistry aspect of wine fermentation (and the clean up), you can make in store with staff guidance and tutorial. CSF does the rest for the next 8 weeks or so and after bottling, you leave up 27 full size bottles of wine! If wine isn't your thing, they are insanely knowledgeable in home brewing and have everything you need for that beer lover you know.
"Next, I would highly suggest gifting the arts. No matter where you live, someone is creating art. In my home of Bangor, giving tickets or season subscriptions to the arts organizations like Bangor Symphony Orchestra, Penobscot Theatre Company or Robinson Ballet are a go to move for me. Try it, people love it.My last suggestion would have never occurred to me if I hadn't been the recipient of it after my wedding two summers ago. This one is a little dependent on your region but honestly, l encourage holiday shoppers to think outside of the current season by looking for a CSA (Community Shared Agriculture). It's a lot like Birch Box or Dollar Shave Club but for local, Maine produce (sometimes cheeses & eggs) from farms in your area."
— Meg Shorette, Central Gallery + The Beta Agency